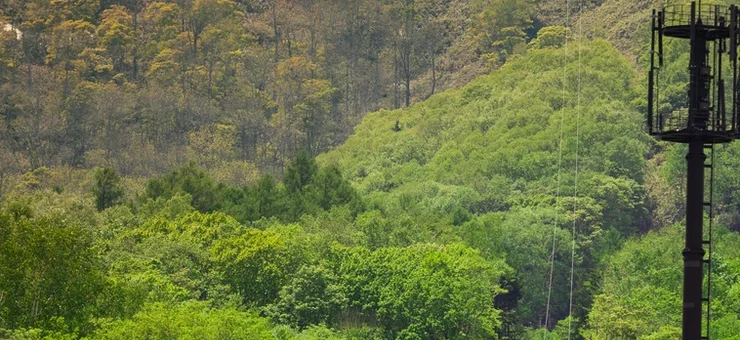 As Japan and other countries open their corridors to visitors again, there's pent up demand to make amazing travel memories. We're pleased to have finished our most recent build in northern Japan just in time for the rush.
Located in the world-renowned ski village, the views from Hanazono Zip World at Hanazono Resort are second to none. This site is home to the longest zipline tour in Asia, giving you a combined flight distance of more than 2.75 km through 3 separate segments. The largest line totals just under 1.8km in length and is one of our Vice President's favorite rides to date.
"After having built and ridden countless ziplines all over the world, I can confidently say this one is at the top of my list. When you have such a long line, the flight risks getting boring if you don't have any proximity flying or enough beauty; this line has it all. High speeds, flying within meters of trees on 3 occasions at over 120 km/hr, and being consistently surrounded by the beauty Niseko has to offer. It really doesn't get much better than this, and if you're interested in testing out our ziplines, this one needs to be on the list. It really is some awesome site design by our team." – Noah Smith
Safe Launch
With a zipline of this magnitude, as always, safety is our number 1 priority. Included in the build are the industry's latest safety innovations. In addition to our patented 2:1 skyTECH braking system that pioneered a new age of high-speed braking standards for ziplines, we installed our most up-to-date Safe Launch system on each segment of the tour.
Safe Launch is a multifaceted operating system that eliminates risk of operator error through advanced technologies and user redundancies; each placed at critical stages of the launch and landing process. The system, comprised of various mechanical and electrical components, adds a new level of oversight to zipline and eco-tour operations. Safe Launch also provides operators with action photo and video sales opportunities, and reduces insurance costs in many cases.
Future Projects
We're excited to see the success of this site as they've opened their doors in July 2022. As for Skyline, we'll be starting an incredibly scenic build in Iceland that will be finished this Fall. Stay tuned for more details from our time there and we appreciate you following along!
Posted by admin
On July 14, 2022